Online Safety Information for Parents
If you are worried about online abuse or the way someone is communicating online, you can contact CEOP's Child Protection Advisors directly by clicking the link below: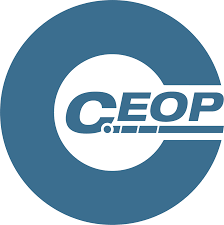 Thinking for Adults
Sharing

Think about the pictures and information that you share online; you are starting your child's digital footprint that is online forever. The funny pictures you post today could have a negative impact later on in their lives. We all like to see photos of ourselves growing up, but we would not necessarily be happy with the public being able to see them or potential employers.

Puzzle and Privacy

The information you post online could give clues to you or your child's whereabouts. Never post pictures that contain private information, such as school uniforms, date of birth, phone numbers or addresses. Your child's safety maybe at risk from others puzzling together these small bits of information.

Who sees your posts? Regularly check your privacy settings and make sure they are locked tight.

How well do you know all of your online friends and followers? Privacy settings are vital for allowing us to enjoy social media, but consider who else should be enjoying your moments too.

Keep up

The internet and technology is changing all the time, it's not possible to keep track of all the changes but our children will still need support and guidance to stay safe. If children show an interest in an app or new technology, take time to explore this for yourself and understand its opportunities and its risks.

Role model

Children mimic and learn from the behaviour of adults, seeing us on our phones for hours might soon be copied by our children. Screen addiction is an increasing diagnosis with lots of physical and mental risks such as weight gain, social anxiety and depression. Similarly, how we talk and interact with others online and offline could be copied by our children. Therefore, it is important to think about the behaviours and habits we are modelling for our children. How often do children see adults staring at phones instead of interacting with those around them?

When it goes wrong

If appropriate security and privacy settings are in place then the chances of things going wrong is significantly reduced.

If something does occur, it is important to remain calm and discuss the problem so that appropriate action can be taken and lessons learned. Your child needs to know they can turn to you and discuss anything on their mind.

To approach a subject, pick a quiet time, like in the car, and try to keep the conversation going with calm, open questions and giving gentle reinforcement of simple rules.
1

Tasks for Adults

Parental controls

All internet providers will have parental controls on their Wi-Fi routers, allowing you to control internet access time and provide children with a safer space to explore.

Before handing over any device to a child, make sure the parental controls are set to appropriate levels for their age. For instance, which new apps they can search for, what can be downloaded or purchased. Set a parental control password and do not allow children to learn it so their device safety is maintained.

The majority of apps will also have their own parental control settings that should be explored and changed to ensure a safe, age appropriate experience.

Easy to follow set up guides can be found with the link below.

Supervise and Talk

Young children are curious and may innocently click on the wrong video. Older children will innocently make mistakes too. We cannot always protect against every eventuality but we can help to minimise risks.

For younger children, ensure you can see their screen at all times and do not allow them to use devices on their own. Co-explore the internet and share experiences together. A mobile device should not be used to keep children quiet or be part of the bedtime routine; due to the adverse effects on sleep.

As children get older, keep up the conversations and co-exploring. Children are more likely to discuss their online habits if they feel parents are understanding of technology. These open channels will hopefully mean anything of worry will be flagged up quickly.

Stuck on how to start a conversation? Check out these starter ideas.

Age

Like film age ratings, most apps will carry a PEGI rating to give an indication of the appropriate minimum age of users. It is up to you as the parent, to decide what your child is exposed to but it is recommended to follow these ratings to prevent exposure to inappropriate content.

Websites also have a recommended age for access and interaction. Most social media websites have a minimum age requirement of 13 years old. This is set in order to protect younger children from harmful content and the potential risks of projecting their life, into the public domain.

Agreement

Write an agreement for technology use in and outside of the home. Include every detail you can think of and identify with your child rules and consequences so all are happy and understanding. Display the agreement for all to refer to and do not give up on it!

O2 NSPCC Parents vs Kids

Who knows more about the online world, parents or kids? Play the exciting online quiz to get the conversations about online safety started!

Useful websites
Provides advice on apps and specific online activities like live streaming.

Access to other resources such as positive body image.

Some paid for subscription services.

Advice aimed at educators and parents alike.

Age specific sections help to gain advice to suit the child and any issues that may be arising.

Advice is backed up by survey results to aid understanding of the wider issue.

App guides for the latest apps and privacy settings on social media.

Aimed at parents and educators with some resources for children.

Informative blog, which keeps up to date on latest advice, signposting users to advice on specific subjects.

Fun activity resources from Safer Internet Day.

Providing support and advice for educators and parents to use with children.

Wide range of topics covered with well-designed, specific area resources.

Digiduck resources great for starting conversations with young children.

Education arm of CEOP.

Provides resource covering a range of online safety topics in age appropriate manners.

Child Exploitation and Online Protection command, part of the National Crime Agency.

Provide advice to parents and age appropriate resources that are used in the majority of schools.

Lots of resources and advice for older children regarding sexting etc.

Providing support and advice for parents on specific subjects of online safety.

Fun resources to show younger children to introduce some tricky subjects.

Providing support and advice for children.

Developing their mindfulness resources to help children cope with stress or other concerns.

App guides for a range of the latest apps.

Monitoring of trends and advice through blog posts.

An American based website but clearly displays positives and negatives.

Age guidance on movies and apps.